Speak Easy!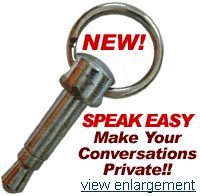 MAKE conversation PRIVATE! SECURE that Cell or PDA so that
YOU will NOT be OVERHEARD!

Disables Microphone AND Disables Speaker/Earpiece
For Wireless Devices with 2.5mm Audio jacks...
Blackberry, Cell phones, PDA's and similar.

Nickel-plated Brass SILENCING plug attached to a
Snap Hook and credit-card-style Instruction Card.
Easily Snaps to your Key Chain.